If you are new to the skating world, then you are probably staring between our headline and photos of this article and thinking, "why are they calling the skateboards 'longboards'?" Well, we don't blame you as the difference between a skateboard and a longboard is difficult to be spotted by newbies. The truth is, both of them have small differences. While skateboards are smaller, have hard wheels, and are made for a short distance, longboards are larger, have soft wheels, and are suitable for long rides. But if you already know all these and are here because you want to find an affordable longboard, you are at the right place. In today's article, we have picked the best affordable longboards for you.
We also categorized the longboards based on their uses type and price so that it becomes easier for you to find what you are looking for.
Best Affordable Longboards- Top 15 Products Reviews
* All Above 15 links are #Ads of Amazon
The best affordable longboards should be both affordable and of good quality. And, if you have a comparatively higher budget, you can get the longboards that are as good as high-priced ones. Here are some great longboards for you.
1. Professional Longboards- APOLLO Longboard Skateboards

---
With lightweight materials and robust design, the APOLLO Longboard Skateboards is a complete package.
Features
Premium Grade Material: Apollo manufactures their top-end longboards using high-quality materials. This longboard is made with Canadian maple wood with a combination of bamboo and fiberglass layers.
Suitable For All: Anyone above six years of age can use this longboard. Kids and grownups can learn skating with this longboard as it is suitable for both beginners and professionals.
Performance: The 7-inches trucks of this longboard are made of aluminum and contain 78A – 90A stiffness. Having strong materials and soft wheels increase the level of its performance.
2. Double Kick Longboard- Magneto Bamboo Longboard
---
Making the best affordable longboards list without mentioning the Magneto Bamboo Longboard feels incomplete. This is one of the must-have items and let's find out why.
Features 
Long And Wide Deck: The Magneto Dancing Longboard has a deck, large enough for a supple ride. The deck is 46 inches long and 9 inches wide which makes this longboard suitable for dancing.
Smooth Touch And Durable: This longboard deck is made of 3 piles of bamboo. It also contains fiberglass layers. The combination of bamboo and fiberglass makes the longboard smooth and durable.
Truck Stability: The trucks' stability plays a major role when it comes to dancing longboards. In that case, you will have 7-inches gravity cast aluminum trucks with proper stability.
3. Dancing Longboards- Magneto Dancing Longboard

---
Okay, let's not get confused here! Even though the brand and features may look similar, both of these Magneto Dancing Longboards have differences too.
Features
Comfortable Deck Size: If you are not looking for a large deck like our previous Magneto model, or if that seems too big, maybe a 42×9 inches deck can be a more comfortable size for you. This feature will help you make turns with ease.
Stability: The surface of the deck has a sandblast coating. That's why you don't need any grip tape to keep the movement stable.
Soft Wheel: The 70mm x 53mm soft wheels ensure smooth carving and rolling. With these wheels and a stable deck, you can skate a long way.
4. Longboards With Big Wheels- Magneto Bamboo Carbon Fiber Longboard

---
From the Magneto carbon fiber collection, we have picked the Carbon-Fiber model. It has stability, style, and one of the top-notch longboards.
Features
Skate Anywhere: What kind of roads can you skate on? Cracked, rocky, debris, rough, you can glide anywhere with this glide-parent no matter what.
Large Wheels: The wheels are 7-inches wide and made with gravity cast aluminum. You can make cravings look like surfing smoothly.
Long Ride: The rotating style of the wheels spins longer than regular longboard wheels. These are appropriate for long and fast rides.
Wide Deck: A deck shouldn't be too big or too small for its users. The 40×9.25 inches deck of this longboard is a perfect size to skate around.
5. Lightweight Longboards- Quest California Native Spirit Longboard

---
Just as its name, the Quest California Native Spirit Longboard has a design that brings out a native vibe. This lightweight longboard has a huge deck and is easy to ride.
No products found.
Features
Large Deck: The size of the deck of this longboard is really impressive. The deck is 41 inches long and 10 inches wide, giving a massive space for its riders.
Attractive Design: The longboard is made of 7 layers of maple hardwood. While the top side is dark, the bottom side has a beautiful bear design.
Speed: The drop-down longboard is easy to glide on without losing stability. However, sometimes it can be a little difficult to maneuver.
6. Off Road Longboard- Atom All-Terrain Longboard

---
Whether you are a beginner, hobbyist skater, or professional, the Atom All-Terrain Longboard is the perfect match for you. And just like its name, it will let you glide on and across the road like a pro.
Features
Maple Wood Deck: Using maple wood for the deck makes it sturdy, which provides strength. Besides, the deck keeps the center of gravity 'down to earth' so that you can move around with flex.
User-Friendly: The 39×9.5 inches longboard ensures a comfortable and non-slip ride. So, if you are a beginner, you can hop on and off without fearing your clumsiness.
High Rebound Trucks: For this longboard, they have used high rebound wheels. Whether you are on or off the road tracks, you can still move at high speed.
7. Cool Longboards- Amrgot 42 inches Complete Longborad

---
This Amrgot longboard is one of those longboards that is a compatible choice for both boys and girls. With the maple wood deck and aluminum trucks, it comes with enough flexibility for all.
Features
Cool Graphics: It doesn't matter how old someone is, and everyone loves glowing things, whether it's the sticker on your bedroom wall or your longboard. The artistic design of this longboard glows in the dark and makes your nighttime skating more interesting.
Wide Design: Talking about riding in the dark, this 42×9 inches longboard is made with maple wood. It makes the longboard flexible, lightweight and the wider design allows you to ride with better grip.
High-Quality Wheels: The high-quality 80A PU wheels are wear-resistant. They are easy to clean and suitable for long and smooth rides.
8. Longboards For Big Guys- Atom Drop Through Longboard

---
Here is one more from Atom for our best affordable longboards list. It is a 40 inches Drop Through longboard with a very unique and marvelous design.
Features
Strength: This longboard is made of seven layers of maple wood and two layers of bamboo. The combination of these materials provides lots of strength and allows the longboard to carry extra weight.
Riding Comfort: Atom longboards are all about flex and comfort. The deck is huge with a 40×10 inches size. You couldn't have asked for more in a longboard at such an affordable price.
Attractive Design: The design is very eye-catchy and will not fade away soon because the lamination keeps the design intact for a long time.
9. Maple Longboards- Gonex 42 Inch Longboard Skateboard

---
Gonex, a 42-inch longboard, is fun to ride. Its design is good enough for skaters of any age or gender as it is strong, slip-resistant, and lightweight.
Features
Fit For All: The use of a skateboard or a longboard should not be limited to a certain age or gender. That's why Gonex has bought out their unisex longboard. Anyone above age six can ride this longboard.
9 Layer Deck: To make this longboard stronger and more durable, the manufacturers have used nine plies maple. The layers give the ride enough strength to carry up to 330 pounds.
Waterproof: For your riding benefits, the deck of the longboard has been made to be waterproof. It keeps the rider from slipping off the longboard during bad weather.
10. Starter Longboard- B BAIJIAWEI 41 Inch Drop Through Longboard

---
If you are a downhill racing lover, this B Baijiawei Drop Through Longboard is the right one for your adventure. You couldn't have asked for a better longboard for the job at such an affordable price.
Features
Easy To Balance: You cannot deny that a 41×10.2 inches longboard is literally a huge size. And a big-sized longboard means more standing and riding comfort. With a size like this, the chance of slipping off is very low.
Small But Strong Trucks: The 7-inches aluminum trucks are lightweight and sturdy enough for movement on any type of road.
Lightweight: It is one of the most lightweight longboards you will come across. Besides, it has heat transfer and grip tape to keep you going for a long time.
11. Great Beginner Longboards- OUDEW 41 Inch Longboard Skateboard

---
Besides being budget-friendly, this Oudew longboard is suitable for both children and adults of all gender. Along with flexibility, it comes in seven different colors and patterns to choose from.
Features
Better Grip: The surface of the longboard is designed to be slip-resistant. As a result, it gives you a better grip while you skate around.
User-Friendly: This is an easy-to-control longboard for you. The deck is 41×9 inches long and wide, giving it enough space for beginners to stand comfortably.
Weight Capacity: The deck is made with eight layers of maple wood which allows it to support more weight. This Oudew longboard is known to be able to take up to 220 pounds. Though the exact weight of the longboard isn't mentioned, it weighs less than 3kg.
12. LED Wheels Longboard- 31 Inch Pro Small Longboard

---
This longboard is smaller in size, unlike most other longboards on our list. But, it has an eye-catchy art, comfortable size, and the trucks come with built-in LED lights.
Features
Small But Flexible: This is the second small longboard we have picked compared to almost all other longboards on our list. But the small size makes it flexible whether you are only learning or have mastered the skating skill.
LED Truck Light: If you are a nighttime skater as well, you will like the built-in LED lights in the trucks. The lights turn brighter as the wheels rotate fast.
Lightweight And Strong: The interesting part of this longboard is that it weighs only 2.1kg. But it can take up to 100kg weight.
13. Budget Longboard- Geelife 31 Inch Longboard Skateboard

---
It is said that this Geelife longboard is popular among girls. But it would be wrong to conclude this as the longboard is popular among boys too. It is very much affordable, has mesmerizing starry design, and comes with good quality.
Features
Assembled Parts: You would be wrong to think that low-priced longboards come with disassembled parts, then you are wrong. The complete longboard comes with assembled parts and saves you from frustration.
Strong Deck: The precisely made deck is 31×8 inches in size and compatible enough for gliding on the street. The deck is made of maple wood and takes a good amount of weight.
Affordable Price: The obvious reason to choose this longboard is one of the best affordable longboards is the price.
14. Double Kick Longboard- Pro Complete Concave Cruiser Longboard Skateboard

---
From the available ten different awesome designs, you can choose the Concave Cruiser Double Kick Longboard. It comes with fierce artistic design, a strong deck, and flexible wheels to turn heads.
Features
Heat Resistant Paint: As the ChromeWheels longboard is meant for riding everywhere, the manufacturers made sure the painting on both sides of the deck remains intact. That's why they are made with heat-resistant paint so that they can be durable.
Tough Deck: The 31×8 inches maple wood deck is tough enough to carry up to 220 pounds of weight. Besides, the soft PU wheels will be silent even if the load is heavy.
Variety Of Color: This longboard comes with a huge variety of colors and designs. You can choose your best affordable longboard from the available ten colors.
15. Sports Longboard- Defeilaisport 31 Inch Kids Longboard

---
The last one in our best affordable longboards list is the Defeilaisport kids-friendly longboard. It is very lightweight, smaller in size, and comes with an attractive design.
Features
Suitable For Children: Children face difficulty when it comes to handling larger and wider longboards. As this longboard is designed especially for kids, longboard skating is going to be a worry-free joy ride for your children.
Weight Adaptability: This longboard can carry more weight than one might think. It can take up to 220 pounds, which means adults can ride on it too.
Durable Material: The deck of this longboard is made of maple wood. And those who have years of experience with skating know that maple wood makes the longboard durable.
How To Pick The Best Affordable Longboards- Ultimate Buyers Guide
Still unsure about picking from the best affordable longboards? Then you need to check out the following to find the right longboard for you or for anyone you want to gift the longboard.
What Type of Longboard Should I Get?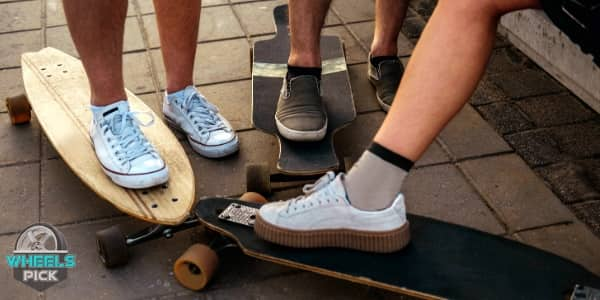 Longboards are mainly of three types:
Cruiser Longboard
Freeride Longboard
Downhill Longboard
Cruiser Longboards are ideal for going from one place to another and are ideal for beginners. These longboards with slightly smaller sizes are more suitable if you are only starting.
Freeride Longboards are suitable for riding down the hills. That's why they often come with the name 'drop down' or 'drop through.' These longboards are to be used by intermediate riders.
And, Downhill Longboards are for pro skaters because these longboards require more skill and precision. The ideal deck size of such longboards is between 40-42 inches.
What Size of Longboard Should I Get?
The size of the longboard always depends on the rider's preference, along with their age and skill. For young riders, longboards with sizes between 28-31 inches in length seem good enough. On the other hand, adult riders find more comfort in longboards with 40-42 inches size.
Moreover, smaller-sized longboards are suitable for sharp and quick turns. On the contrary, if you are looking for something for more speed and craving, you can pick the large one.
Longboard Size Chart
Source: www.evo.com
What Longboard To Buy For Beginners?
When buying a longboard for beginners, you need to make sure that it is flexible, has a comfortable space, and easy to maneuver. In this best affordable longboards article, we have mentioned several such longboards.
No products found.

 has a vast deck to give a new rider a good amount of space. If you are looking for a longboard with good durability and speed, this is the right choice.
Atom Drop Through Longboard is also good for beginners. It is also lightweight and easy to push through.
OUDEW 41 Inch Longboard Skateboard is budget-friendly with a large deck. The material is also strong enough to take extra weight.
Affordable Electric Longboards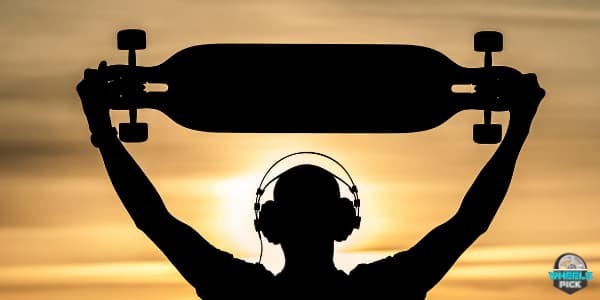 Though the electric longboards cost way more than normal longboards, you can still find some of the best affordable electric longboards in the market. And some of the commonly known affordable electric longboards are: Apsuboard longboard, Backfire longboard, Swagskate NG3, Airwheel M3, Meepo V3, etc.
Best Cheap Longboards For Beginners
Other than Atom Drop Through Longboard or OUDEW 41 Inch Longboard Skateboard, there are Atom All-Terrain Longboard, Geelife 31 Inch Longboard Skateboard, and the Defeilaisport 31 Inch Kids Longboard. All of them are qualified enough for beginners.
How To Maintain A Longboard?
When you use longboards regularly for a long time, you will notice things like dirt and debris getting stuck here and there. The trucks and bearings also start to get loose at some points.
Longboards can last a very long time if you give them enough care and maintain them regularly. And here is how you can do it:
Longboard Maintenance Kit
You can scrub the dirt off the surface using a brush and soapy water. It's not that difficult. But cleaning and maintaining the wheels and bearings require some maintenance kits such as:
Bones Skate Bearings Cleaning Unit
Bones Swiss Skate Speed Cream + Cleaning Unit Kit
DYNWAVE Bearing Oil
ZUEXT Grip Tape
Zeato All-in-One Skate Tools
Alouette Skate Tool Set of 2
Cheap Electric Longboard Kit
You can buy a fully assembled longboard or buy separate parts to make one for an electric longboard. Some of these electric longboard kits are really cheap.
WonVon DIY Electric Longboard Kits
XCSOURCE DIY Electric Skateboard Longboard Kit
IWONDER Original Boosted Board V3 Motor
Loaded's Electric Skateboard Kit
Cheap Longboard Trucks And Wheels
Looking for cheap longboard trucks and wheels? We've got you covered. These are some of the cheap trucks and wheels we have come across:
Jizmo Skateboard Trucks And Wheels
Oldboy Skate Park Wheels
Cal 7 180mm Trucks with Wheels, Bearings, Hardware
Core Skateboard Aluminum Alloy Trucks
Bigfoot Longboard Wheels
FREEDARE Longboard Wheels with ABEC 7 Bearings
Cheap Longboard Decks
If you are thinking about customizing your own skateboard, plenty of good-quality cheap longboard decks are available.
Bamboo Blank Skateboard Deck
Trouble D25 Longboard
Blank Decks Warning Skateboard Deck
Mini Blank Kicktail Natural 26 inches Bamboo Longboard Deck
Cheap Longboard Brands
Some cheap longboard brands are:
Defeilaisport Longboard
Atom All-Terrain Longboard
Quest Longboard
HuangXin Longboard
Geelife Longboard
Longboard Tips And Tricks
Learning how to longboard is like learning about a new adventure. And here are some tips and tricks for beginners regarding longboards.
Tips:
There is a specific stance for everyone that makes one comfortable. Find your stance on your longboard.
In the beginning, practice on a heavy carpet or on the grass to prevent injury.
Do not push too much to speed up. Start with slow pushes.
Learn how to brake by putting your foot on the ground.
Tricks:
Cross-Step: A trick of putting one foot before another.
180 Degree: You start with putting your front foot in the middle and heel on the back. Then you shift your weight to pop-up the board.
Freestyle: This is the most commonly performed flipping trick.
Shuvit: To do this, you put your front foot on the nose of the longboard and the other foot in the middle and do a 180-degree turn.
Where to Buy Cheap Longboards?
Cheap longboards can be found at any store that sells skateboards. But not all stores will guarantee to have the best affordable longboards.
Still, you can look around the stores near you and see if you find the quality you are looking for. You can also check online to buy cheap longboards, and Amazon is the best place to find reliable longboards in the budget.
Frequently Asked Questions (FAQ):
Q1. What Is The Best Cheap Longboard?
A) The best cheap longboards come with durable material, a good amount of space, strong bearings, and trucks at a low price are the best cheap longboards. We cannot suggest you just one best cheap longboard as there are so many. To find the right one, you can follow our review and buying guide.
Q2. How Much Should A Good Longboard Cost?
A) That largely depends on how much you are willing to spend. A longboard can be cheap yet be of good quality, and an expensive one can end up being faulty.
Nevertheless, depending on the quality of the materials and the type of longboard, the price can be $39 to $390, or a lot more. But, if you have a smaller budget, you can still find a good longboard within $50-$150.
Q3. Which Longboard Is Best For Beginners?
A) Cruiser longboards are best for beginners. These longboards are known to be effective for those who are only learning to skate. They come in various sizes and shapes. But all of them are beginner-friendly and provide a good amount of speed and stability.
Q4. Is It Cheaper To Build Or Buy A Longboard?
A) Building and buying longboards cost pretty much the same. To build one, you will have to buy the parts separately. And, cheap parts may give you a poor quality longboard. Our suggestion would be to check out the marketplace for both parts and complete longboards, and see what works out for you.
Q5. Is Drop Through Longboard Good For Beginners?
A) Drop-through longboards are good for beginners, but they are more suitable for intermediate-level skaters. If you are only starting to learn, we would tell you to stick to the cruiser longboards. But if you have passed the learning stage, a drop-through longboard wouldn't be a tough thing to handle.
Our Top Pick: Best Budget Longboard
---
I've been riding skateboards since I was 8 years old but I'm not sure if I would consider myself as an expert at them yet. So here I am sharing some of my thoughts from personal experiences. As well as some of expert skate lovers experiences with their own boards are in brief here.
First off, I'd suggest getting a good quality board. As far as brands go, I'd say MBS Mountain Boards makes some of the best boards out there. From this brand MBS all-terrain longboard is best pick for all level riders. This board made in California and comes with completely assembled as bundled.
This longboard's is big in size and heavy for built quality also best match for asphalt. Also perfect weight limit for big adults with up to 300 lbs and 50 degree angles. It's has solid 78A rubbery wheels for ultra riding speed. If you want something more affordable, then check it out this. MBS mountain boards also make some pretty decent boards for beginners and professionals.
Final Words
Skating is not just a sport but a form of exercise to be both mentally and physically healthy. No matter what your age is, you can always start learning this skill. And once you reach the advanced level, performing tricks and stunts becomes a lot easier. But, you need a good longboard to do that. And nothing can be better than starting with one of the best affordable longboards. While there are lots of things to consider before purchasing one, make sure to get the ones with better material and parts. If you want to learn longboarding like a pro then can read our article on "how to ride a skateboard".