Although you merely have to control it, electric scooters have become a standard mode of transportation like any other two-wheeler. These electric-charged carriers are quite popular among youngsters and hardly uncommon in urban streets. Being a vehicle, the question arises, do you need a license for an electric scooter?
Well, that's an interesting question that we will try to find the answer to. In this piece, we will be looking at some of the essential facts on e-scooters' legal issues.
Do You Need A License For An Electric Scooter?
Without further ado, let's get started to find the answers!
What is an Electric Scooter?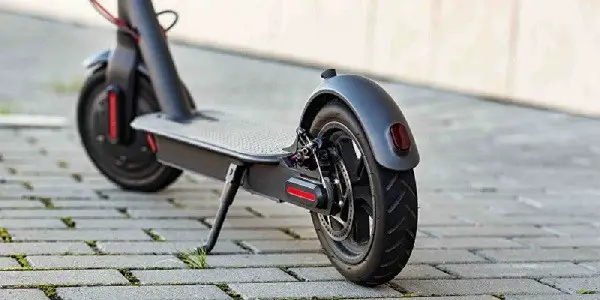 Electric Scooters generally refer to a stand-up two-wheeled motorized vehicle. These scooters come with a small-sized internal combustion engine. The kick scooters have a large deck in the middle of the set up where you can put your feet on. You can put both of your feet on the deck or one foot only.
A long handle sprung out from the front of the scooter to put your hands on and control the vehicle. These scooters don't run at a very higher speed but give you better mobility than walking.
What Are The Rules Guiding The Use of Electric Scooters?
Even it may sound quite surprising, the truth is, using an e-scooter has a lot of rules and regulations. It's true that in most countries, electric scooters are treated no more than a bicycle, but many countries have different rules and regulations on using a motorized scooter.
Depending on where you live, the rules and laws regarding an electric scooter may vary. Like you may need to ensure a headlight, a rear view mirror, a brake light, indicator, and many other things on your scooter in different countries.
Some countries may also need you to wear a safety helmet while your mount your e-scooter. In other countries, you may not ride on every street you like. There may be restrictions on movement with an e-scooter.
It's better to learn about laws in different countries rather than learning the rules in general. Follow the following sections for details.
Electric Scooter Laws for Different Countries

As we said, different countries follow different rules and regulations for electric scooters. Here, we will look at three different regions and find out how these countries regulate electric scooter's movement.
Canada


Canada is pretty friendly for e-scooter riders as electric scooters are considered under the same category of bike. The category also includes e-bikes and other power-assisted bikes, as well. Owning an e-scooter in Canada is as easy as owning a bicycle, and no plate, license, and papers are needed to ride one.

Individual provinces can offer minor changes to these laws and rules like age restrictions and movement limitations.

The United Kingdom


In the United Kingdom, riding an e-bike is legal and okay as long as you are not below 14 years old. These e-bikes are considered electronically assisted pedal cycles; you don't have to have a license to ride an e-scooter in the UK. No registration and paperwork are necessary either.

But for e-scooter, things are a bit different. You don't need to register it or make a license for it, but you can't ride it on private property or area. You have to ride it only in public. As it doesn't have any pedals, you can't ride it on pavements and bicycle lanes.

The European Union


In the EU, rules and regulations on electric bikes and scooters vary depending on where you are riding. For example, in France, electric-scooters fall under the category of PLEV (Personal Light Electric Vehicle), and these vehicles are allowed to ride at up to 25 KM/Hr if you are riding on a bicycle lane.

In the case of Austria and Switzerland, you can ride it on the street, as well. In Germany, the restriction is 6 KM/Hr if you are riding it on pavements. In some of these EU countries, you need to wear helmets while riding. 
Electric Scooter Laws by States (USA)

In the USA, laws regarding electric scooters vary from state to state. Let's look at the most common states where the rules of riding an electric scooter are taken seriously.
Alabama: Electric scooters are considered motor vehicles and need a motorcycle license to ride.

Arizona:

If the e-scooter is run by a motor with more than 750W of power and has highest speed of 20 mph, it is an electrically-assisted bicycle. The state follows the general rule, and no specific law is applied.
California: In California, the top speed limit of an e-scooter is 15 mph.
Florida: Electric scooters in Florida are not recognized as street-scooter and can't be ridden on streets. Again, riders over the age of 16 need to wear a helmet while riding in the private and local spaces.
Georgia: Georgia allows riders to ride e-scooters on a bike lane, pavement, and on the road at a speed of up to 35 mph.
Indiana: In Indiana, you can't ride an e-scooter on the sidewalks and bike lanes. You have to ride it on the street following regular traffic rules. Wearing a helmet is recommended but not required.

Kentucky:

Electric scooters are treated as the same as bi-cycle in Kentucky.
Likewise, other different states also have individual rules and regulations on riding e-scooter.
You can easily search the internet to know the details on e-scooter laws in specific states. You can visit to this link "A comprehensive guide to electric scooter regulation practices" to know more on it.
What Kind Of License Is Needed For An Electric Scooter?
As we have already discussed, whether or not you need a license to ride an e-scooter comes after the vehicle classification. Is it classified under the motor vehicle? If yes, then you would need a motorcycle license to ride an electric scooter. If it is classified under bi-cycles, then you don't need any license at all.
How Do I Realize If My Electric Scooter Complies With The Law?
It's pretty easy. The rules and regulations of a state specifically mention the motor power and the vehicle's speed limit. You can find out the motor's power and the highest limit of the e-scooter on the package the scooter comes in or at the manufacturer's website.
Sometimes someone wants to know how to make an electric scooter faster? but e-scooter speed may cause to violation of rules.
Although there are diverse rules in riding an e-scooter in different lands, here are 7 common rules that you need to follow no matter in which part of the world you are riding. These rules are applicable for any state in the USA, as well.
The 7 Important Rules
Wear a helmet if you are under 18 years old – Don't take this lightly. It really can save your life.
Ride at a maximum 15 miles per hour – You can speed up if you want, but being a lightweight vehicle, it may cause accidents.
Use bike lanes where available – Try to locate a bicycle or scooter lane if possible to avoid traffic.
Ride alone, off the sidewalk, and with a true driver's license – If you do have a license, why not carry it?
Dismount and walk for left turns – If you are turning left, the best way to take it is by dismounting from the scooter.

Abide by crosswalk regulations

– This will make sure that you are following traffic rules and keep you safe.

Follow all the rules that implement to motor vehicles

– Just to be on the safer side, no matter what law the state allows for your scooter! 
Frequently Asked Questions (FAQ's)
Which electric scooter does not need a license?
Any electric scooter that isn't classified under motor vehicles does not need a license to ride.
Are electric scooters legal on sidewalks?
It varies from country to country and state to state. Some states or countries allow riding e-scooter on sidewalks, while some don't.
What is the age limit for an electric scooter?
There is no age limit in riding an e-scooter. Anyone with knowledge of riding an e-scooter can ride it.
Can I buy Scooty/Scooter without a license?
Yes, you can, if the country of state-law allows it.
What should I know before buying a scooter?
You have to know if your country or state has a rule that you need to have a license for riding a scooter. Then, you must know if you are allowed to ride the scooter in busy streets, or you should only stick to riding it in residential areas. And finally, you should know the speed limit of your state and then buy one accordingly.
Final Words
Although most countries and states do not have any hard and fast law for carrying or having a license to ride an e-scooter, it doesn't mean that you are going for the ride of your life. It will better if you were very careful while you are on the street, among other vehicles and traffic. And of course you have to know do you need a license for an electric scooter? Make sure you are well-aware of the rules and regulations of the region where you are riding. Wearing a helmet and following general traffic rules will always keep you on the safer side. Keep these in mind, and have a safe ride!