There's no denying that tonneau covers have the toughest exterior and long-lasting properties. Even then, often, it gradually loses its charm and quite rapidly becomes evident that the tonneau cover isn't your shiny new toy anymore.
This happens as the truck bed covers go through high wear and tear as they're constantly out on display, protecting your truck from bad weather and other external forces. But now, you'd love to give your tonneau cover the love it deserves.
So, how to make a tonneau cover look new? Well, you've come to the right place to know that! After painstaking hours of research, we've pulled up all the juicy facts for you. So, stay tuned to see how you can revamp your tonneau with a few accessories!
How To Preserve the Life of Your Tonneau Cover
Most of the rules for long-lasting tonneau involves regular maintenance and top-tier care, such as handling them with care, keeping them secured, checking the closures regularly, removing dirt, snow, and residues, and reducing dust-tracking marks. But there's more to the story. So, as a conscious owner, if you'd like to know how to make a tonneau cover look new, keep reading!
What To Use On Your Tonneau Cover
Your tonneau cover will pick up grime and dirt whenever you're on the road. One of the best ways to maintain your tonneau cover is by simply hosing it down using plain water to eradicate initial layers of dirt and grime.
However, when your tonneau requires deeper cleaning, you can use soft sponges, microfiber cloths, and vinyl-protective products. Although, here's a pro tip you must abide by; avoid using harsh chemicals atop the vinyl or aluminum truck bed covers.
Cheap polishers and cleaners contain fillers and silicone, which can't restore the tonneau's original condition. Truck owners must also remember not to overpower the shine as it can quickly age hard and soft vinyl tonneau covers and make them prone to corrosion and fading.
Why Should I Clean My Tonneau Cover
Your tonneau cover goes through more than you know on a daily. Whether it's traffic dirt, mildew, stains, scratches, high temperature, harsh weathers, or poor maintenance, your tonneau can't withhold their quality without some help. Therefore, users must clean their tonneau weekly depending on the amount of dirt accumulation for high protective performance.
How to Properly Clean Your Tonneau Cover
So, how to make a tonneau cover look new? Keep skimming to know what you need to do to keep your tonneau clean after installation.
Park your vehicle in a shaded area and hose or spray the tonneau with plain water or a mild cleaning solution.
Take half a cup of car-washing cleaner and mix it with warm water in a bucket.
Utilize a scrubbing brush and gently scrub the cover with soap water mixture. Use circular motions with the same pressure.
Soak for about 5-minutes, rinse with clean, plain water and allow it to air dry.
Pre-cleaning and Cleaning Steps to Take: Things To Consider Before You Start
You can't possibly let your favorite car accessory, such as the BAKFlip tonneau cover, go to waste, right? Now, it doesn't matter which type of cover you own; if you keep it well-maintained, it will serve you greatly. So, let's see some of the must-do pre-cleaning and cleaning steps for your truck bed cover.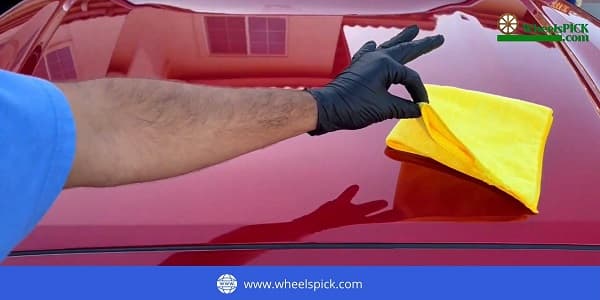 First, start by keeping the vehicle and the needed accessories out of children's reach. Next, wear safety gloves and glasses before you begin. Ensure that the product you're using is non-toxic, biodegradable, and non-hazardous.
Step#01: Park the car in a cool area and out of direct sunlight. UV rays can dry the cleaners atop tonneau surfaces quickly.
Step#02: Hose it is using plain water to get rid of the excess and surface-level grime.
Step#03: For deep cleaning, use a soft brush, detergent, or mild soap water to remove the stubborn mud, cobwebs, mildew, and dirt. Ensure that the brush's bristles are soft to avoid scratching the surface of the tonneau.
Step#04: Spray tonneau cleaner sprays section by section on the surface and wipe it in a clockwise motion till the entire tonneau has been covered. You can also hose it down and wipe it until it dries into a scratch-less, streak-free surface.
Step#05: Lastly, if you're aiming for a squeaky clean finish, don't forget to regularly apply a protectant on the tonneau. Utilize a damp microfiber cloth to apply the protectant evenly and let it air dry.
Inspecting the Side Rails and the Hardware
It's a must to review the mounting hardware, clamps, latches, and bolts before cleaning the tonneau. Upon inspection, you could find that the hardware is too loose or tight. This phenomenon could occur when the truck bed cover sustains tremendous pressure from heavy cargo.
Not only is it necessary to avoid leaving heavy loads atop the cover, but it's also essential to regularly check the entire profile. In case of corrosion or rigid mountings, you can try to pry those using lubricants or oils. You can also try to tighten the bolts and nuts using screwdrivers if they're too loose.
Cleaning a Soft and Hard Tonneau Cover
Honestly, the options for cleaning a hard and soft cover aren't that far apart. You'll need to wash them with anti-harsh chemicals, soap, water and finish off with a polish. Similarly, the pre-cleaning steps for both are pretty identical too.
So far, we've seen the steps to clean hard tonneau but keep reading, as, in the next section, we'll elaborate on how to clean soft tonneau.
How to Clean Soft Vinyl Tonneau Covers?
You see, dealing with a soft vinyl tonneau cover isn't that different than the rest. So, quit worrying about which method to follow because we've got your back! Here's what you need to do.
Spray a cleaner directly atop the soft tonneau.
Let the cover soak for a few minutes.
Brush the tonneau with the cleaning solution and wipe it off.
Let the surface air dry.
Spray on a coat of finishing solution.
Buff the surface using a clean microfiber cloth, and you're done!
How To Keep The Tonneau Cover Black?
This one's a nail-biter, but the solution is quite simple! All you need is to apply serum plastic restorer with a microfiber pad using circular motions with the same pressure across the surface. Highly concentrated conditioners help restore and maintain the black color on tonneau covers. Let the condition soak, and finally, wipe with a microfiber cloth.
The best part? You only need a tiny amount to keep the vinyl lively, bright, and shiny for days!
Cleaning Fabric Tonneau Covers
Here's another secret. If you're worried about owning a fabric tonneau – don't! Go ahead and purchase it if it matches your needs. Because the cleaning methods for this are as simple as the previous two, follow the basic steps below for a clean fabric tonneau cover.
Spray the cleaner.
Brush and wipe it off.
Let it air dry.
Finish off with a protectant layer.
Tire Shine On Tonneau Cover And Prevent It From Fogging Up
If your tonneau is fogging up, you may be misapplying the shine. Follow these steps to avoid this mishap.
Wash tonneau cover thoroughly.
Shake the tire shine bottle.
Apply the shine using a clean cloth and in even long strokes.
Allow it to dry.
Apply a second coat if needed for a glossier finish and let it air dry.
Store the bottle in a dry and cool place until the next use.
Generally, applying a tire shine keeps the cover from fogging up. However, you can also use bug and tar remover with tire shine for streak and fog-free results. The product is water-based and safe for any cover.
Is It Ok To Go Through Car Wash With Tonneau Cover
A hard tonneau made from plastics or fiberglass can withstand a car wash. However, if you've painted, , folding, rolling, or retractable cover, a touchless wash might be the best option as they're not as sturdy as hard tonneau.
Soft tonneau covers can easily take on regular washes, although it's not advisable by all manufacturers. Thus, it's best to ask the manufacturer before a car wash, no matter which type of tonneau you own.
What Accessories Do You Need to Clean (With Accessories Checklist Table)
Wondering what you'll need to clean the tonneau? Worry not; check the list below and swing by any shop to grab the items you don't have at home.
| Sl. No.: | Tools Required To Clean Tonneau Cover |
| --- | --- |
| 1 | Safety Glove & Glasses |
| 2 | Microfiber Cloth |
| 3 | Plain Water |
| 4 | Tonneau Cleaning Solution or Soap |
| 5 | Scrubber or Soft Brush |
| 6 | Tonneau Protectant |
What About Tonneau Cover Routine Maintenance?
To be fair, none of these tactics to make your tonneau good as new will work if you don't commit to some level of maintenance. So, here are a few tips on maintaining the quality and integrity of your tonneau cover.
Regular Reviews:
Commit to checking and reviewing the tonneau cover regularly. Look for unusual corrosion, scratches, looseness, dirt, grimes, and bumps. These are signs that your tonneau needs a repair.
Secured:
Most damages come from an unsecured tonneau. So, it's wise to check the mounting hardware, bolts, and clamps before each ride for the safest outcome.
Adequate Washing Method:
Pick a cleaner that can also extend the lifespan of your tonneau. Don't focus on the anti-fading and anti-cracking properties; aim for the entire package. Utilize softer cleaning methods with anti-harsh accessories for long-lasting results.
Right Protectant:
Once you clean your tonneau, apply a trustee protectant on the tailgates, bumpers, and rims. It extends the tonneau cover's longevity.
No Overburdening:
Always remember to avoid excess overload atop the tonneau. It will sag quite rapidly, snatching away its main features.
Protection:
As ironic as it might sound, your truck bed protector needs protection too. Keep it out of direct sunlight, snow, and water to avoid vinyl damage.
Final Thoughts
The trick to a brand new-looking tonneau every day is regular maintenance. It rarely matters which tonneau brands or models you own; they won't last as long as you'd like if you don't exert equal care towards the tonneau cover.
Now, let's consider the facts; tonneau covers deliver top-notch protection to our vehicle's cargo. However, they do so despite the harsh sun, stubborn snow, and thrashing rain.
Thus, it's evident that we must provide equal maintenance and care to the sole component that does so much for our vehicles single-handedly. Since you now know how to make a tonneau cover look new along with other interesting cleaning facts, you mustn't delay. Go ahead and get to work!