Have you ever found yourself struggling at an airport due to disability? Maybe you have gone through surgery, or you are seriously injured. Traveling around the airport in such cases can be very difficult. That's why almost all the airports in the world have a system of wheelchair assistance. Whether it's for your disabilities or your special needs, you can get this service. However, many people aren't aware of such things, often having a tough time. So, if you don't know how to request wheelchair assistance at airport, then stick with me till the end.
Here, I will be going through various aspects of wheelchair assistance in an airport. I will also talk about some popular airports and their service of wheelchair assistance. So, let's get things underway.
4 Easy Steps to Get Wheelchair Assistance At The Airport
I tell you what, getting wheelchair assistance isn't that hard at an airport unless you have a "wheelchair DUI." But you will need to know what to do. Otherwise, you will be the one putting yourself through hassles. You can do things at certain times that will get you rid of a lot of troubles on your flights.
Here are the 4 easy ways to get wheelchair facilities on flights.
Step#01: Inform The Airlines Before Departure
There are some things you will need to do before the day of your departure. Many things can go wrong if you inform the airlines or airport about your wheelchair assistance at the last moment. So, you will need to give them time to be prepared for your request.
It's better to call the airlines 2 days before the departure date. This way, they will have a wheelchair attendant set for you. They will take you once you reach the airport. Also, try making a reservation on the largest plane possible that way, the chances of getting assistance increases because there are more seating options available.
Having said that, you have to prepare yourself for this too. You should pack some food for your trip beforehand. Because the wheelchair assistant won't be obliged to take you to a restaurant or any other food place, so, consider this possibility before the date of departure.
Step#02: Tell Your Attendant On The Day Of Departure
Just because you will have handicap assistance at airports doesn't mean you will have special privileges. You still have to arrive early to check up on your flight, bags and go through security. You will still need to go through the line to get to the checkpoint. Also, you will need to wait for your wheelchair assistant to come and help you.
You have to tell your attendant about your condition. Whether you can walk or stand on your feet will have different consequences. If you can't walk or stand, you will need to go through a special pat-down screening. You can ask for a personal pat-down screening for yourself. In that case, your wheelchair will go through examination as well.
Lastly, if you have your wheelchair make sure to get the disassembly instructions alongside; most airlines don't allow passengers in their wheelchairs. Also, try to tip the attendant as they aren't well paid in their job.
Step#03: In Between Flights
If your trip involves multiple flights, then you will have to follow this step. Wait for all the passengers to get off the plane. According to the airport wheelchair service, an attendant should be waiting for your arrival on the next flight. And they will take you to your flight.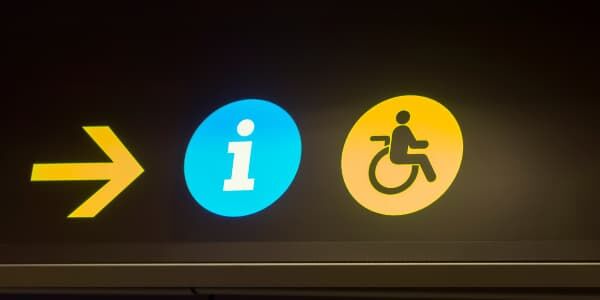 Once again, explain your condition to the next attendant so they can understand your needs. However, just like I said previously, your wheelchair attendant won't take you to buy food or other stuff. They can only serve your utmost needs, like going to the restroom.
Step#04: Wait To Get Off The Plane
Do the same thing you did in between flights. Wait for everyone to get off the plane. And you will see an attendant waiting for your arrival at the airport. They will take you to the baggage claim area from there your acquaintance, friend, or relative can pick you up.
This is how to get a wheelchair at the airport. It's not very troublesome. All you need to do is have some preparation and a clear mindset.
Now there are some special cases of escort passes. With this pass, someone can come along with you to the departure gate or receive you at your arrival gate. However, not every airline allows this pass, so you shouldn't depend on this too much.
Guided Assistance At Airport
Now let's come to the real fact here. Will it work for you? Sure, it will if you ever need this kind of assistance. Almost all the airports in the world have airport wheelchair services. Still not convinced? Then, let's check out the wheelchair assistance policies of some renowned airports.
Special Assistance in American Airlines
American Airlines is undoubtedly one of the most popular airlines in the world. There are lots of different services they provide. American Airlines pregnancy policies are one of the popular ones that people often talk about. Along with that, they have their wheelchair service as well.
You can get American Airlines' special assistance from your gate. They provide it between the flights, throughout the customs, and till the baggage claim. All you have to do is request wheelchair assistance while booking your flights. And once you arrive at the airport, let the team members know about your special needs.
All the passengers very praise their service. And they have good policies for satisfying their customers with their services.
How To Get Wheelchair At Airport Delta
Delta Airlines have the best kind of wheelchair assistance supposedly. They let you have a personal wheelchair if you want to. So, you can even have your electric wheelchair carrier there if you inform them. They offer their wheelchair services as well. They have varieties in their wheelchair service. Also, their whole policy is comprehensive and appealing.
To request a wheelchair service, you can get to the My trips section after you book a flight. From there, you can ask for special wheelchair assistance. Or you can try the Delta airline confirmation number, which is 404-209-3434. Let them know where you want the service to start from and where to end.
Their whole service is beneficial and convincing. You will surely be satisfied with their behavior and reaction towards this matter.
How To Get Wheelchair Assistance At Airport Southwest
Now, this place is a great example of services. The airport assistance for first-time flyers in this airport is amazing. Why am I saying this? Because in their policy, they say that you don't even need to inform them about your wheelchair assistance beforehand. On top of that, they are very open to providing you any necessary service you need.
While they don't require any notice, it's good to notify them. That way, they can prepare themselves to provide better service to you. You can select the special assistance section when you book the reservations. And if you have already booked a reservation, you can update that from their website.
You can let them know about all kinds of needs you might have through calling them as well. It's a great airport, especially for those who need wheelchair assistance for parents because they might not have any idea about notifying them beforehand.
How To Get Wheelchair Assistance In Indigo
The airport handicap services of airport Indigo is a satisfying experience. You won't get disappointed with the service you get. They are very serious about caring for their customers, and they do it as their utmost duty.
All you have to do is inform them about ordering a wheelchair at the airport 2 days before departure. You will get the option of special assistance when you are booking your flight.
Getting Wheelchair Assistance In The SpiceJet airport
Do you need a wheelchair at the airport for free? Well, no problem if the airport is SpiceJet. They provide you special wheelchair assistance without any extra charges along with the attendant. You have to inform them about your needs while booking the flight. Or you can notify them with the flight's confirmation number. Also, it's better to have advance intimation to SpiceJet to have this facility for yourself.
Frequently Asked Questions:
Here are some repetitive questions regarding wheelchair assistance at an airport.
Can Wheelchairs Go On Planes?
Yes, they can, depending on the type and size. But once you get on the plane, you will probably be switched to an aisle chair or special chair with proper assistance. Some airlines let you have a personal wheelchair. They even let you charge an electric wheelchair.
Is Wheelchair Assistance At The Airport Free?
Yes. In most of the airport wheelchair assistance is free. The whole service comes with a wheelchair attendant as well. So, you don't have to pay for any of the services. However, in some cases, you might need to pay an amount if you ask for such service at the last minute.
How Do You Get Special Assistance At The Airport?
To get special assistance at the airport you have to inform them about your condition beforehand. Many airlines have a section on the booking options that says special assistance. You can ask for any assistance there. Some airlines don't need any notice early on you can get special services even after reaching there.
How Much Do You Tip For Wheelchair Assistance At The Airport?
You can tip the attendant for your wheelchair assistance from somewhere around $4 to $8. That mostly depends on how long they have been with you. You can do the math. However, keep in mind that they don't get paid much for their job. So, if you can be generous, then give as much as you can.
How Do I Add A Wheelchair To My Flight?
You can add a wheelchair to your flight at the time of booking. Or you can call the airlines for this service. They will add a note that says "requires special assistance."
How Do I Check In A Wheelchair At The Airport?
You can check in a wheelchair at the airport while you are at the ticket counter or the departure gate. If you have a battery-powered wheelchair, then you should arrive an hour ago. If your electric wheelchair cost is too much, you can ask for proper handling of the chair in the airport.
How Do You Board A Flight For The First Time?
If you are boarding a flight for the first time, get to the airport 2 hours before the departure. Your ticket will have the information of your terminal, so keep that in check. The purpose of getting to the airport earlier is to learn your way through it. There are information booths all over the place you can find them, and they will let you know what you should be doing. All you have to do is keep your baggage in check, for that you can use a trolley.
Where Do Wheelchair Users Sit On Planes?
The wheelchair users usually sit on aisle chairs on a plane. They sit with all the other passengers. But whenever they are getting on the plane or off the plane, they sit on the aisle chair for movement, and often, they get assistance from the airlines.
Final Words
Well, now that you know how to request wheelchair assistance at airport, your life will get much easier. Whether it's for yourself or your family member, getting this assistance is very helpful.
As you can't have someone come along with you all the way. Also, some airports don't even allow personal wheelchairs. In such cases, this is the only option you have got. Plus, this makes things so easy when you are switching between flights.
So, knowing this can be a lifesaver if you ever need to travel with a disability.