If you are a skateboard lover who likes to spend hours riding the board, you would know how much of a fun sport this can be. Besides, it is a great way to burn some calories as well! But skateboarding doesn't just require you to grab a skateboard and start cruising and performing tricks, as you have to follow the skateboarding laws to avoid any legal issues! While getting comfortable on your skateboard doesn't take much of your time, you have to be careful because skateboarding is not approved by everyone in every country. In some places, skateboarding on public property is against the law. You wouldn't want your fun time getting ruined just because you didn't follow some simple rule!
4 Basic Skateboarding Laws in General
In North America, the universal laws regarding skateboarding are actually quite a few. Each city and state may have its own specific sets of rules and guidelines for skateboarders. Hence, it would be wise for you to check the individual city and state laws before you plan to ride a skateboard there. You wouldn't want to get fined while skateboarding!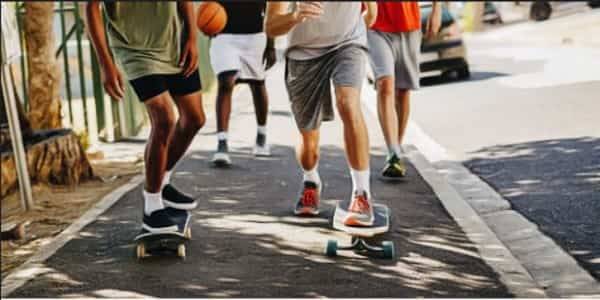 As the internet has made our life much easier, you can also google the specific state or the city and search the guidelines online. However, most skateboarding laws are formed to prevent physical injuries or property destruction. The basic skateboarding laws in most areas are
#1: You must not ride your skateboard in the street.
#2: You should never take any risk.
#3: Only one person should ride on one skateboard;
#4: Never try to pull a ride from a bus, car, bicycle, or truck.
Always remember to wear safety gear like helmets, elbow and knee pads that meet recent U.S. safety standards.
Is It Illegal To Skateboard In The Street?
Generally, skateboarding on the road is not legal for obvious reasons. Busy streets crowded with people and vehicles are like the accident magnets for skateboarders. But where can you skateboard legally then? No worries, as some cities allow you to skate in the bike lanes of the street. But you have to be cautious with that too.
First: Learn to use proper signaling when you are turning. These simple tricks and techniques can save you from potential physical damages.
Second: Chances of you being alone in the road when you are on your skateboard are pretty slim. Always be careful of the bikers and riders around you.
Third: Even if you are an expert skateboarder, you can always fall from your skateboard, or you can hit another rider by mistake. A hard fall can cause you grave injuries and wounds. Hence, make sure to wear proper protective gear.
Four: Be aware of the cars when you are on the road.
Is it Illegal To Skateboard On The Sidewalk?
Yes, in most places, you can not skateboard on the sidewalk. However, it is always better to check the area-specific regulations regarding skateboarding. So, why would skaters get in trouble for skateboarding? When you are on your skateboard, you are considered a stroller in most states, meaning you have the same rights as a pedestrian.
As skateboarding does not require a license, you can legally ride your board on a sidewalk as long as it is not prohibited. However, skating on the sidewalk may seem a lot easier, but it's not. In fact, it requires more effort from you, which can be exhausting.
You would not want to hit breaks in the cement slabs or roll over the sidewalk for sure. Hence, most skateboarders avoid sidewalks and prefer to ride on the road when it is safe enough.
Are Skateboards Allowed In Airports?
To be honest, yes, skateboards are allowed in airports by the TSA or Transportation Security Administration. Most American airlines permit you to bring skateboards as baggage following a specific size restriction. While TSA doesn't prevent passengers from taking their board on the flight, most airlines won't let you take it as a carry-on item.
Instead, you have to take it as checked luggage. You will have to pay an extra fee if the board surpasses the weight limit. It means you can bring the skateboard as a checked or carry-on baggage based on the airline. If the board weighs less than 60lbs and its length is under 62 inches, you can take it as a carry-on.
You won't be needing any bag if the board fits under your seat. Put the wheels upside so the board doesn't start rolling. If you are putting it in an overhead bin, use a trash bag to cover the wheels. However, only a few airlines can provide you this convenience. The others need you to check the skateboard instead of carrying it on.
You can also carry the short-lengthened longboards like mini-cruiser on the flight. However, you can not bring an e-board or electric longboard on a flight. If you do, you must remove the batteries beforehand.
How To Pack A Skateboard For Air Travel?
As we have mentioned earlier, most airlines allow you to carry your skateboard in flight. You have various options to choose from. Some airlines don't even charge you extra if the board fits their size and weight specifications. But how you can take them with you might vary in different places. You can stow the board in the overhead compartment, or you can just fit it in your luggage.
1. Pack It In Your Suitcase
You can stuff your board into your suitcase. To keep your things clean, you can also wrap the board in the garbage bag and then pad it with the clothes. If the airport you are boarding in or out doesn't have any 'no skateboarding' law, you can also skate on your board and take it yourself to the baggage checking point.
This way, you can enjoy skateboarding and easily run around the airport without wasting time.
2. Strap It On Your Backpack
While skateboarding in a garbage bag has proven to be a convenient way to carry your board, some might feel it doesn't look stylish or cool to do so. If you don't like the idea of a garbage bag wrapped around your skateboard, then you can put it in your backpack. Several skateboard brands make specially designed backpacks for carting their skateboard.
Such backpacks not only give you a sleek outlook but also turns out to be a comfortable way to move the board. If the backpack doesn't come with skateboard straps, you can always make it work by compromising a little bit of your comfort.
3. Ship It
If the above options don't appeal to you, this third but expensive option can be your saving grace. You can ship the skateboard to a specific destination by spending some extra cash. However, skateboards can be a bit weighty, and the packing materials would make them heavier. But at least you won't have to struggle physically to carry it everywhere.
Either you can ship it overnight by giving a big amount of money, or you can spend less and transport it within a few days. However, this option is a lot safer than checking at the baggage claim station. No matter what option you choose, make sure to take additional equipment, bearings, wheels, and hardware.
Can You Skateboard In An Airport?
When fun, skateboarding can also be a bit hazardous activity. Hence, you have to maintain specific safety measures to avoid any unfortunate events. Skateboarding in an airport sounds a bit unusual due to various reasons. You wouldn't want to collide with passengers and cause disturbance for others. Moreover, security rules may differ depending on the airport area.
In some airports, skateboarding on the premises is not allowed. You will have to face severe consequences if you break any rule. Now, not all airports follow such strict restrictions. You can even ride on your skateboard in some airports. But keep in mind, even if there is no law imposed on a specific airport, you have to skate there at your own risk.
However, as it is not on the list of banned items, most airports don't forbid you to carry your skateboard with you. You can take your board as a luggage to any airport.
Final Words
To many riders, the skateboard can be a way of feeling freedom and refreshment at the same time. While you can go solo, skating with a group of friends can make your experience more enjoyable. But for that, you first have to get the best skateboard, be it a traditional or an electric one. You can also opt-out for a longboard rather than a skateboard, based on your preference. If you are a rookie and just learning to ride your skateboard for the first time, make sure to wear the necessary protective gear for safety measures. But don't start to run on everywhere as skateboarding on public property is against the law, and you could be facing some severe penalties! Hence, try to abide by the skateboarding laws to prevent any unfortunate problem.