When it comes down to choosing the best accessories for your trucks or SUV, the tug of war between nerf bars vs running boards has always been the starting point for many. Which of these step bars provides the utmost grip and safety? Which is better? What's the difference between their functions?
Whoa, slow down! So many questions but worry not, as we're here with a comprehensive article to cater to every car enthusiast. Since the functionality of these stepping bars comes down to safety, neither should you take the matter lightly, nor should you purchase the first model you see right off the rack.
Thus, to guide and lead you towards your match, let's check out some of the vital differences, specifications, and features of running boards vs nerf bars so you can make a wise decision that perfectly fits your needs and budget!
Nerf Bars vs. Running Boards: Which is Better?
In a practical sense, both nerf bars and running boards make it simpler for users to get in and out of the SUVs or trucks. However, the critical difference between nerf bars vs running boards is that running boards have flatter and broader steps, whereas nerf bars have an oval or round design, around 3-inches diameters. But there's more, so keep reading!
What Are Nerf Bars and Running Boards For? Are Nerf Bars and Running Boards the Same?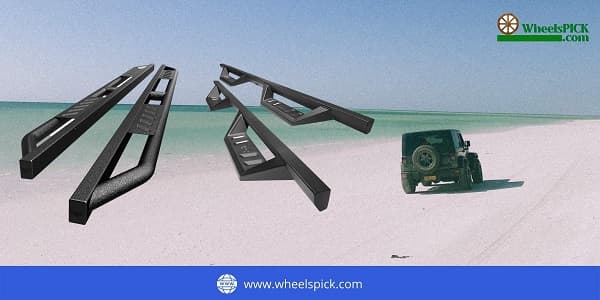 Running boards and nerf bars make your life easier by letting you exit and enter your truck or SUV in a jiffy, but most importantly, it keeps you and your vehicle safe. But let's see their basic features and how they differ.
Generally, nerf bars come in aluminum, carbon, or stainless steel constructions. Most of these bars come with non-slip step pads at the entrance; however, some manufacturers also incorporate hoop steps closer to ground clearance.
Usually, nerf bars can be attached to trucks or SUVs via a rocker panels; thus, additional drillings of brackets and bolts are unnecessary. Besides the wheel-to-wheel model, cab lengths are also quite well-renowned, as they provide protection and convenient side steps for tool boxes and cargo accessories. Nerf bars come in textured, glossy, chrome, and polished finishes.
Running boards have a flatter and broader step that runs along the bed or cab length. These boards come in various materials, including fiberglass, composite plastic, steel, and aluminum. In trucks, these drop downs come in three inches, making exiting and entering the vehicle smoother and safer.
Few brands like AMP also manufacture electric running boards, yet another charm in this industry for higher protection, maximum drop distance, and easier retract and deployment.
Even though the essential feature and necessities for both nerf bars and running boards are the same, the main difference between them lies in the construction and style. Running boards have a flatter and broader step and area overall and come down to the lowest 10-inch option, whereas nerf bars come in a more rounded and oval-like shapes with its starting diameter at 3-inches.
Some more distinctions between the two lies in their material, installation, drop-down function, and design variability.
Nerf Bars vs. Running Boards: Which is Right for You?
Even though most people think that choosing either of these two wouldn't make a massive difference as their highlighted features are similar, users must consider many factors before making this major decision.
According to experts, nerf bars exhibit stepping surfaces at the cabin's entrance, whereas running boards provide step bars for the entirety of the board's length. Moreover, when it comes to nerf bars and running boards, there are a plethora of types, sizes, and styles to consider.
Nerf bars can offer high protection against terrain debris and rocks during travel alongside its main feature. In retrospect, nerf bars can quickly get slippery in cold and wet regions; therefore, this ceases its primary objective.
On the other hand, running boards are a must-have for shorter travelers. These boards also prevent the vehicle's exterior paint from chipping and act as a basic yet stylish doormat for cars as users can wipe off debris before entering. The cons for running boards are that they can get quite gunky during winter snow making the interiors dirty as well; thus, they require frequent cleaning.
So, besides their primary features, they offer varying styles and convenience concerning the region you live in and how well you maintain the step bars. It's a genuine trade-off that users asses before the splurge.
What Is the Purpose of a Running Board/ Nerf Bars?
The vital purpose of running boards and nerf bars is to provide passengers with the highest convenience when climbing in and out of heavy-built vehicles such as SUVs or trucks.
However, they have a few more significant purposes that often get overshadowed, such as easier access, protection against terrain damages, clearance reduction, boosting aesthetics of the vehicle, and a narrower surface.
Additionally, when nerf bars are installed on quads, they prevent the two machines of the wheels from getting confounded. These versions are also called step tubes, truck steps, step rails, tube steps, boss bars, and step bars.
Side Steps vs. Running Boards: What Are Your Experiences?
Nerf bars go by various names, and it's mounted beneath the rocker panels of heavy-built vehicles, providing a more accessible and safer way in and out.
But, running boards come with quite impressive length as they run along the side of the car, exhibiting additional space and comfort for stepping. Many users find comfort in this wheel-to-wheel design as they know the chances of missteps and slipping are lower.
On another note, users especially prefer the non-slippery padding if they live in colder regions, which leads to lower accidents. However, if looked carefully, many have found the utmost comfort in nerf bars due to their functionality, better space management, and grip pads.
Such experiences are a dead giveaway that users need to assess their budget, weather conditions, and style preference before splurging right off the rack.
Running Boards, Nerf Bars and Side Steps: How to Choose the Best for Your Car/SUV/Truck
Since running boards run along the length of the trucks, they provide even stepping along with a streamlined look. The broad surface also prohibits wobbly balance and mobility.
Nerf bars have gained fame due to their sleek design as they have spaced out installation style in trucks, which is visually rugged and pleasing.
Lastly, side steps are for those users who admire a simpler look in their trucks, SUVs, or cars as they provide safety and comfort while running the foot's width. It's more compact and shortened compared to nerf bars vs running boards.
So, regardless of their features, all three serve well when bought according to specific needs. Thus, would you like a wheel-to-wheel, boot scraper, textured, rubberized, chrome, or black finish and design? The choice is yours!
Nerf Bars vs. Running Boards: What's the Difference?
Keeping aside the main similarity between nerf bars vs running boards, it's essential to pinpoint their difference. The stand-out difference are their shapes, sizes, and designs. Running boards are wider and flatter, whereas nerf bars can come in various sizes and designs.
Side Steps vs Running Boards vs Nerf Bars | Comparison Table
So, what's the deal with side steps, running boards, and nerf bars? Let's check the comparison table to know more.
| Features | Side Steps | Running Boards | Nerf Bars |
| --- | --- | --- | --- |
| Shapes | Round | Flat | Round |
| Accessories | Designated stepping area, traction pads | Stepping surface along the length | Designated stepping area, traction pads |
| Style | Sticks out further | Wide and slimmer | Sticks out further |
| Installations | Requires drilling, mounting and attachments | Needs bolting, brackets and drilling | Requires attachments and mounting |
| Footing | Ample Space | 3-inch width maximum, runs full length of vehicle | 3-inch maximum width, with varying lengths |
| Ground Clearance | High | High | Low |
| Types | Electric, side rails, rock slides, side steps | Traditional and electric | Cab-length, wheel-to-wheel, sport tube and oval |
| Material | Fiberglass, rubber and diamond-plate steel | ABS molded, fiberglass, polymer and aluminum | Molded polymer, polished aluminum, stainless steel and carbon |
Running Board Size Chart: How to Measure Running Boards
To measure running boards, all you need is to measure the starting and end of your vehicles from the front and rear wheels. Cover the entire length to know the accurate measurement.
However, in reality, the running board sizes may vary. So, let's check out a few makes and their respective measurements.
| Type | Measurements |
| --- | --- |
| Wheel-To-Wheel | Around 6-inches |
| Drop-step | Around 6-inches |
| Tube | Around 2 or 3-inches |
| Electric | Around 2 to 3-inches pinched and 6 to 7-inches deployed |
| Cab-length | Around 4.5-inches |
What Types of Running Boards and Nerf Bars Are There?
Want to know which type of running board or nerf bar will suit your four-wheeler best? Come and check!
Running Board Types
Electric Running Board:
These are the most expensive kinds and have an automotive design. When mounted, they will automatically fish out and in when the car doors are opened or closed. They work solely on the receiver, transmittal, and delivery of signals via the door.
Traditional Running Boards:
Traditionally, these are stationary boards attached beneath the doors and have a length of around 3 to 5 inches. These traditional running boards can come in cold-rolled, stainless steel, and aluminum construction.
Types of Nerf Bars
Cab-Length or Wheel-To-Wheel Nerf Bars:
Cab-length or wheel-to-wheel nerfs run along the length of the SUV's body, enhancing space and footing for users plus, it's safer!
Oval Nerf Bars:
Oval bars have oval or rounded shape ends that minimize sharper edges and thus, lead to lower mishaps.
Tubular-Shaped Nerf Bars:
Tubular bars generally fit at the sides of race cars which typically have a single-seat or are race cars, also known as sport tube nerf bars.
Pros and Cons of Running Boards
You can't know all about running boards without taking a gander at its prominent pros and cons. So, let's dive in.
Pros
Retracts in some vehicles
Comes in various sizes and styles with easy installations
Lets users maintain a cleaner interior
Prevents debris and rocks from the ground from kicking back against the vehicles
The step area is generously wide and flat, allowing a safer and more comfortable footing.
Cons
Not eligible for off-roading
Prone to generic wear and tear
Easily acquire debris, snow, and dirt.
Pros and Cons of Nerf Bars
Users understand the differences between these side steps for wranglers better once they look into both pros and cons, so let's get into it.
Pros
Lower mounting creates easier access
Offers maximum protection against rock chips, and door slams
Tubular-shaped nerf bars prohibit debris accumulation
Has a lovely, streamlined design
Best for rugged use and off-roading
Cons
Ground clearance is too low for some
Risky due to vacant space in between the car and itself
Needs frequent cleaning
Tubular-shaped nerfs have a narrow surface
Are Running Boards Worth It/ Are Nerf Bars Necessary
Nerf bars are a must-have upgrade to reduce accidents such as slipping. The same goes for running boards, as they protect passengers during exit and entrance, prevent debris from entering the vehicles, and let users maintain a clean and hygienic interior.
What Size Nerf Bars Should I Get?
Generally, wheel-to-wheel nerfs start and end at the front and rear wheels, which is relatively straightforward. The second consideration comes with step width or diameter.
Tubular-shaped nerfs come in a 2 to 6 inches range with shape variations such as oval or round. You can depend on your vehicle's model, make, and year to get the perfect pick.
Frequently Asked Questions (FAQ's)
Q1. What Are Running Boards Made From? How Much Weight Can Running Boards Hold?
A) Running boards come in various materials such as ABS mold, fiberglass, polymer, and aluminum. However, running boards have a higher weight capacity because they can carry around 500 lbs at once.
Q2. Will Installing Running Boards Void my Vehicle's Warranty?
A) Some manufacturers might try to sell hoax news but modifying, or installations on your vehicle will never void its warranty.
Q3. What are Electric Running Boards?
A) Electric-powered running boards extend and retract automatically depending on the vehicle's door operation. They're not hanging around the sides at all times and expand only when doors open.
Q4. Do Nerf Bars Work as Rock Sliders?
A) Rock sliders are made from a stronger material when compared to nerf bars. Sliders can withstand most damage while easily sliding on humps, stumps, and rocks.
Q5. Do Running Boards Affect Gas Mileage?
A) By installing retractable running boards, you can streamline your vehicle's gas mileage due to its aerodynamics functions.
Q6. What Are Running Boards on a Car/ SUV/ Truck?
A) On trucks or vehicles, running boards are platforms stuck to vehicles' doors to let passengers glide in and out safely.
Q7. What Is the Best Brand of Nerf Bars/ Running Boards?
A) According to users, TAC's running boards seem highly rated and provide generous variety for minivans, crossovers, and vans. On the other hand, brands such as Tyger, Yitamotor, and Bully Universal also have some of the best nerf bar selections.
Q8. What Are Running Boards Used For/ How to Use Running Boards?
A) Running boards are platforms connected to a vehicle's door that let passengers easily enter and exit the car and provide adequate clearance from the ground. All passengers need to do is step on them for a safer exit and entrance
Final Words
Here's the catch, at the end of the day, both running boards and nerf bars act as a ladder for heavy-built vehicles, which is a must-have. Apart from its obvious use, both of these products also revamp your truck's entire look and appeal.
But, if we look into its major specification component, which is safety, fortunately, both nerf bars vs running boards win the round as they come in an anti-slip construction along with various material options. So, what now?
Well, you can still understand by now that some of the vital distinctions between these jeep step bars are in their finish, style, design, functionality, and of course, your budget. So, keeping all the similar qualities aside, ensure that you weigh the dissimilarities and choose the product that best fits your needs and budget.